Put down your thermometer and eggs because this marshmallow recipe doesn't need them! Super easy to make and soft, fluffy marshmallows every time!
I really love to make food for people.
Not only do I enjoy the actual process of baking and cooking, but I also enjoy seeing people's reactions when they taste what I've made.
Big smiles, yummy sounds, licking the plate clean!
It's a lot of fun!
The three best compliments I've ever gotten have stuck in my mind and they make me smile every time I think of them…
I made a batch of chocolate cupcakes once for a family friend who was visiting and he liked them so much that he was scraping the tiny bits of cake from the cupcake liner!
Just a couple of weeks ago, I made an amazing chocolate cheesecake and gave a big slice to a friend.  She took it home, left it on her kitchen counter.  When she came back to the kitchen, the cheesecake was gone – her two boys had eaten the entire slice.  What's so amazing about this is that her boys normally wouldn't even dream of eating cheesecake!
One of my friends who has sampled almost everything I've made told me recently that she likes it all so much, she couldn't decide which was the best.  She said, while sampling one of my espresso marshmallows (recipe below), "I keep saying that every new thing you make is the best you've made so far, but I think this marshmallow is the best!"!
Oh, and here's a bonus compliment – there's also my daughter who told me she thinks I have magical powers that make everything that I create in the kitchen taste amazing!
Speaking of marshmallows, though, brings me to the recipe I'm sharing with you today.
Last year, I sampled a few marshmallow recipes, all of which required candy thermometers and/or eggs.
The resulting marshmallows were… okay… but not spectacular.
Then I came across a recipe that didn't need thermometers or eggs – wow, what!?
I had to give it a go, although I was skeptical.
The recipe was so simple that anyone could master it (although you wouldn't want to let your kids help with the cooking bit, as the boiling sugar is very hot).
First, you'll need to sprinkle some gelatin over cold water in the bowl of a stand mixer fitted with a whisk attachment.
While the gelatin is soaking, add water, sugar, salt and corn/glucose syrup to a pan and bring to the boil over high heat.
Simply boil for 1 minute and remove from the heat.
Turn the mixer on low to break up the gelatin, then while the mixer is running, slowly pour in the hot sugar in a gentle stream against the side of the bowl.
When it's all in, turn the mixer to high and whisk for 10-12 minutes (scrape down the sides if necessary).  Add in the vanilla and whisk briefly to thoroughly mix it through.
Pour the marshmallow "batter" into a 9×9-inch tin greased with butter, place a sheet of butter-greased plastic wrap on top and leave to set for 3 hours at least, or preferably overnight. Then slice 'em up!
This part is so fun, but be prepared to be covered in icing sugar by the time you're done! Haha!
Look at these gorgeous, fluffy marshmallows!! They actually look like clouds! I am so in love these!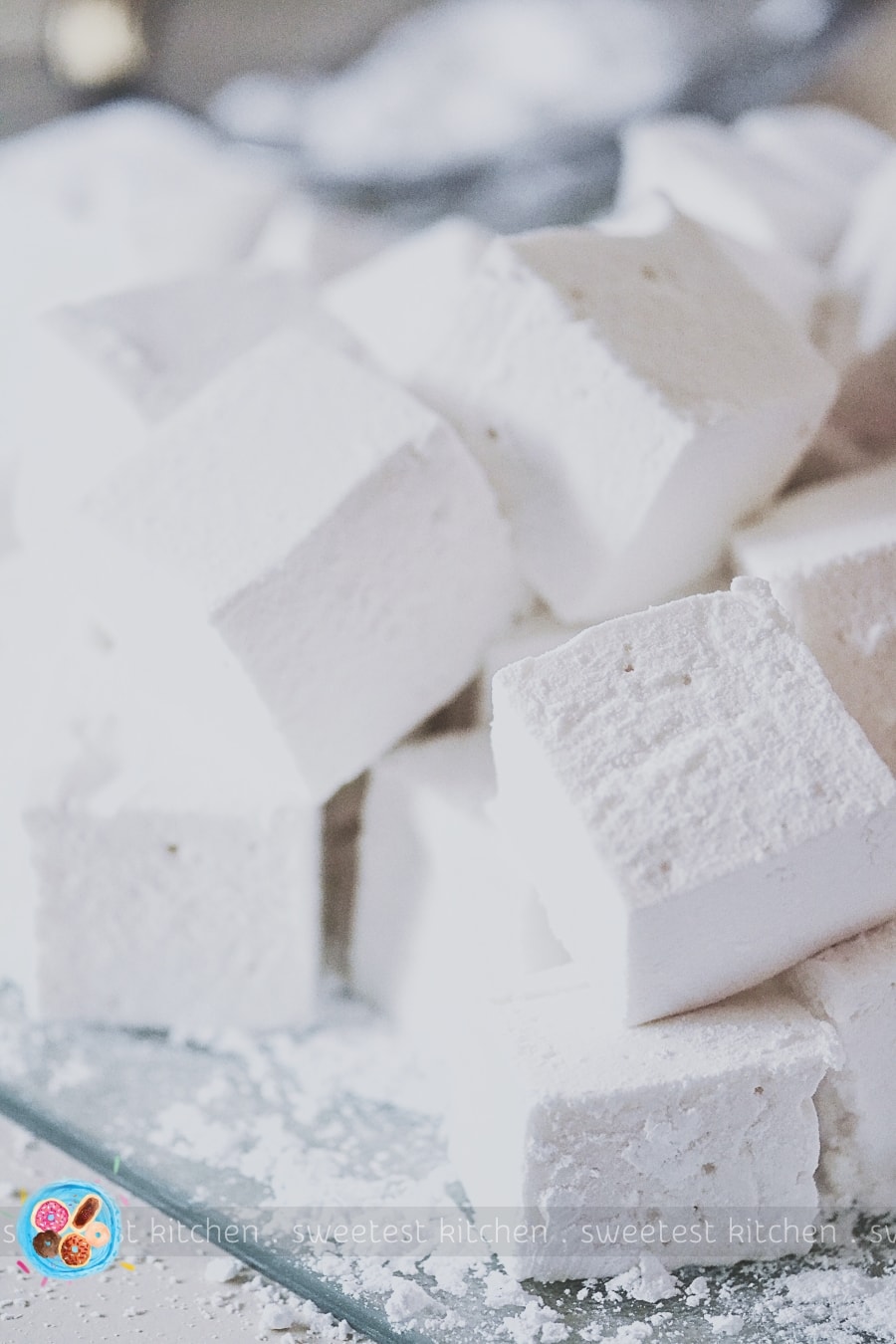 I've made this recipe at least 5 times (maybe 6 or 7? I've lost count!) and it has never failed.
I have to say, I think this super easy recipe makes better marshmallows than the ones that use a candy thermometer and eggs, and even better than the ones you buy at the store.
These vanilla marshmallows are…
basically fool-proof
so easy to make
so soft
so bouncy
so fluffy
so pretty
perfect for s'mores
lovely in hot chocolate
You've just got to make them!
Oh, I almost forgot!
There are some flavor variations, as well.
The original recipe lists instructions for switching up the plain vanilla for coconut, raspberry, mint, coffee and cinnamon.
So far, I've tried the coffee ones… I used my Nespresso machine to extract 1 cup of espresso (that's a lot of capsules, but I love Nespresso coffee; of course, you can just use instant espresso, instead) for this recipe variation, then I drizzled the sliced marshmallows with dark chocolate. These were really tasty, and the ones that my friend absolutely loved. I passed out a lot of these to my friends at school pick-up time one afternoon and everyone raved about them!
I've also tried the raspberry ones… these are flavored with raspberry jam, which I noted makes the marshmallows extra sweet.
The jam isn't enough, however, to make these marshmallows taste much like raspberry. 
Pureed raspberries are also not enough.
The jam will not turn the "batter" pink, so if you want pink, you'll need to add food coloring (I did for these photos).
For a stronger raspberry flavor, you'll need some raspberry flavoring, instead, I think.
But they sure are pretty!
And the last variation I've tried is the mint, which I don't have pictures of (apart from this one on Instagram).
These turned out nicely, and I had swirled some dark chocolate onto the top of the marshmallow "batter" just after I poured it into the pan which made it look very pretty.
I plan on making these again for a new post, but I'm going to switch out the mint flavoring for a chocolate-mint flavoring.
I will get around to trying the other flavor variations eventually; I'll let you know when I do!
A friend requested a jaffa (chocolate-orange) flavor, so I'll be experimenting with that soon, too.
These marshmallows can be used to make s'mores and you can also use them in hot chocolate.
They'd be great for parties, and imagine how wonderful they would be all prettily packaged up for a gift!
What will you do with your marshmallows? And what flavor are you going to make first?
I think the plain vanilla ones are my favorite!
Super Easy Egg-Free Marshmallows
Put down your thermometer and eggs because this marshmallow recipe doesn't need them! Super easy to make and soft, fluffy marshmallows every time!
Print
Rate
Servings:
64
1×1-inch marshmallows
Ingredients
1

cup

water

divided

3

envelopes

21g unflavored gelatin

2

cups

caster sugar

1

⁄2 cup light corn syrup

or glucose syrup

1

⁄2 teaspoon salt

2

tablespoons

pure vanilla extract

about 2 cups icing sugar

to coat marshmallows
Instructions
Grease a 9-inch (22cm) square baking pan with butter and set aside.

In the bowl of a stand mixer fitted with a whisk attachment, pour in 1⁄2 cup of the water and sprinkle with the gelatin. Set aside to allow the gelatin to soak in.

In a medium saucepan over high heat, add the sugar, corn syrup/glucose syrup, salt and remaining 1⁄2 cup of water. Bring to a rolling boil and continue to boil for 1 minute. Remove from the heat.

Turn the mixer on low and mix the gelatin once or twice to combine it with the water. Slowly add the hot sugar mixture, pouring it gently down the side of the bowl, and continue to mix on low.

NOTE : Be really careful at this point because the sugar mixture is smoking hot!

When all the hot sugar mixture has been added, turn the mixer to high and continue to whisk for 10 to 12 minutes until the marshmallow batter almost triples in size and becomes very thick. Scrape down the sides of the bowl frequently, if necessary, to avoid the batter overflowing as it grows. Stop the mixer, add the vanilla, and then whisk briefly to combine.

Transfer the mixture to the prepared baking pan and use a spatula or bench scraper to spread it evenly in the pan. Work quickly, as the marshmallow becomes more difficult to manipulate as it sets.

Grease a sheet of plastic wrap with butter and lay it across the top of the marshmallow. Press down firmly on the plastic wrap, to seal it smoothly and tightly against the mixture.

Leave the marshmallow to set at room temperature for at least 3 hours or, even better, overnight (I've always let mine set overnight). The marshmallow will be too sticky and soft to cut if you try too soon.

Sprinkle a work surface or cutting board with the icing sugar. Run a knife along the top edge of the pan to loosen the marsh­mallow slab. Invert the pan and flip the marshmallow out onto the counter or board. Scoop up handfuls of the icing sugar and rub all over the marshmallow.

Use a large, sharp knife to cut the slab into 1- × 1-inch squares (you may need to wash the knife off a few times to keep getting clean cuts). Roll each of the freshly cut marshmallow squares in the remaining icing sugar to coat them completely.
Notes
Flavor variations:
COFFEE MARSHMALLOWS
Add 1⁄2 cup of strongly brewed coffee or espresso instead of the water in Step 1, and add another 1⁄2 cup of the coffee/espresso instead of the water in Step 2.
RASPBERRY MARSHMALLOWS
In a small saucepan over medium heat, warm 1⁄4 cup raspberry jam until it becomes runny, about 3 minutes. Remove from the heat. Place a fine sieve over a small bowl and pour the warm jam through the sieve to catch any seeds and create a puree. Add the puree and one drop of red food coloring at Step 4 of the recipe, after the 10-12 minutes whisking time. Note, I was using liquid food coloring and I needed much more than one drop for the marshmallows to turn pink! Also, in my opinion, the jam did not flavor the marshmallows enough to give a noticeable raspberry flavor; might try using raspberry flavoring instead.
Pin this recipe for later!